Paris (AFP)
Energy savings, oil decline, development of electricity from renewable sources: the global energy system must undertake "rapid" and massive transformations to limit climate change, warns the International Energy Agency ( OUCH).
" The world urgently needs to focus its attention, with the precision of a laser, on the reduction of planetary emissions ", believes Fatih Birol, the executive director of the Paris-based agency, in presentation of its unveiled annual report. Wednesday.
" This requires a grand coalition including governments, investors, businesses and all those committed to tackling climate change, " he said. " The response from governments and industries is far from satisfactory ," he lamented at a press conference in Paris.
Last year, energy demand increased significantly, as did energy-related CO2 emissions, which reached " an all-time high ", underlined Mr. Birol.
He pointed to contradictory trends, such as the emergence of electric vehicles overshadowed by the global success of SUVs, these polluting urban 4x4s. These SUVs are the second cause of the increase in emissions in ten years, behind the electric sector, " and much more than all the industrial sectors put together ".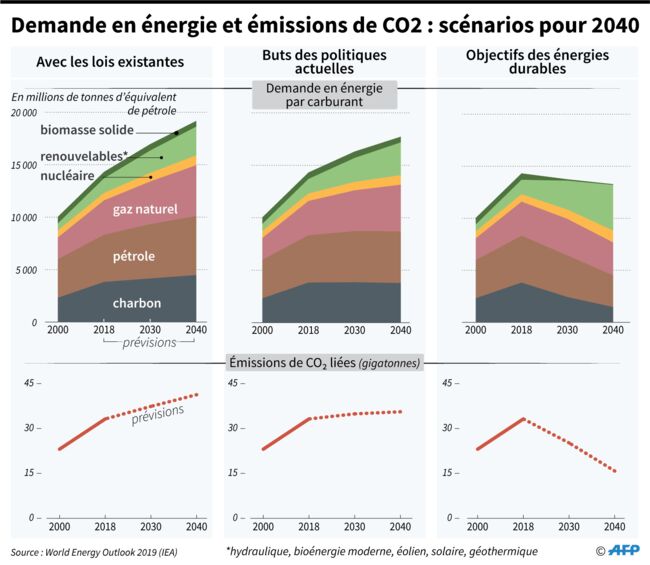 As every year, the IEA publishes several scenarios: one extrapolates on existing energy policies today, the other takes into account the changes induced by the political objectives announced for the future, but which remain insufficient.
Only a third scenario shows what would have to be done to limit emissions in accordance with the objectives of the Paris agreement, to contain warming well below 2 degrees, and rather to 1.5°, compared to the levels preindustrial.
The latter – the sustainable development scenario – " requires rapid and widespread changes across the entire energy system ", warns the IEA. And " there is no simple or unique solution to transform the world's energy systems ", adds Mr. Birol.
First, it assumes that energy demand will be lower in 2040 than it is today, despite the growth of the global economy, thanks to energy efficiency efforts.
However, this is not progressing fast enough, the IEA has already warned in a report published in early November: it has, for ten years, never progressed as slowly as in 2018.
– Coal problem –
Meeting climate targets also requires oil and coal use to peak immediately before declining, while gas needs a little more before it begins to decline. It would take an oil market that drops to 65 million barrels per day in 2040 (compared to 97 million last year), a level that corresponds to that of the early 1990s.
On the other hand, electricity must grow and take first place in final energy consumption, to the detriment of oil, by 2040. New electrical capacity must be drawn almost exclusively from renewables – wind and solar.
"Placing power systems on a sustainable path will require more than just adding renewables," however, warns the IEA.
It thus underlines this year the need to also attack emissions linked to the existing system, targeting in particular coal, which is very polluting. Coal-fired power plants are very numerous and relatively recent in Asia, so they are likely to continue to emit for a long time given their long lifespan.
The report released Wednesday focuses on this problem and identifies several solutions. The first is to equip them with carbon capture and sequestration capacities – at the exorbitant price of one billion euros per gigawatt (GW) of capacity based on current technology – or equipment allowing them to also use biomass.
The second consists in making coal-fired power stations backup means of production to ensure the flexibility of the electricity system while reducing their operation. The last, more radical, is to close them earlier than expected.
In the sustainable scenario, most of the 2,080 GW of existing coal capacity would have to comply with one of these three solutions, warns the IEA.
© 2019 AFP